"Luskville farm turns wasted wool into new garden product" was published in The Equity on September 16, 2023 and was authored by Connor Lalande
Luskville area agriculture mainstay Leystone Farms is turning discarded sheep wool into pellets that can be used to fertilize and conserve soil moisture in the garden. Owners Karri and Trefor Munn-Venn launched the new product at an on-farm event on Saturday


Whether sheep are being raised for meat production or for their fleece, we found that a lot of wool ends up discarded or wasted
Karri, who is herself an avid knitter, said the idea came about after seeing the amount of wool wasted in the husbandry of sheep.
"Whether sheep are being raised for meat production or for their fleece, we found that a lot of wool ends up discarded or wasted," she said.
"The solution we landed on was the production of wool pellets that can be used in the garden. Wool that is too short or dirty to be made into yarn, or would otherwise be discarded, is fed through a specially engineered pellet mill to create small felt pellets," she said.
Among the vast array of benefits Leystone Farms says their wool pellets have on gardens and potted plants, the repelling of pests and insects and the conservation of water are likely to be the biggest draw for home gardeners.
While Leystone itself has a growing flock of sheep, Trefor said that the wool used in the pellets is acquired from farms throughout the region and recycled into the gardening product by Leystone.
"The raw wool is sourced from Western Quebec & Eastern Ontario," Trefor said.
"Transforming it into pellets offers a positive alternative to throwing their wool away. We're happy to help local farmers by collecting their waste wool and grateful to them for entrusting this wool to us for processing."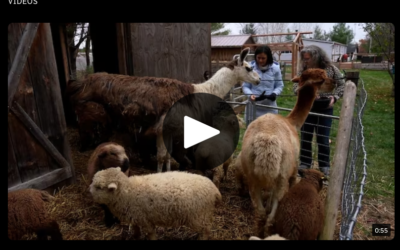 CBC Radio-Canada joined us on the farm to learn more about innovation in the Pontiac and our work creating wool pellets for the garden Sheep's wool to your garden's rescue We were thrilled to have CBC Radio-Canada join us for half a day to interview Karri about our...